Level 3 - November 2024 Deposit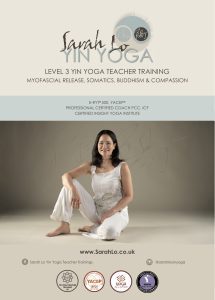 Level 3 Yin Yoga Teacher Training (50 hours YACEP)
Myofascial Release, Somatics, Mindfulness & Compassion
A 4 week online course.
DATES
NOV 16 - DEC 7, 2024 (Saturdays)
3:00pm - 5:30pm GMT Live interactive sessions
COURSE DETAILS
This Level 3 Yin Yoga Teacher Training with Myofascial Release, Somatics, Mindfulness & Compassion Meditation is a 50 Hour course (YACEP) over 4 weeks with live interactive small group sessions and specially filmed videos of lectures and practicums and classes provided ahead each week to enhance and retain your learning process. The course will build upon previous training and go into entirely new ways of practicing Yin Yoga using myofascial release balls of differing density and sizes including the giant ball! Yang strengthening and enhancing practices with the muscle support balls and trigger point work with balls.
BALANCE OF PAYMENT
The balance of £450 is due no later than October 31st to qualify for the early bird pricing of £650.
Regular price of £695 will apply from October 31st.
This pricing includes a non refundable deposit of £200 to reserve your place on this course.
TERMS & CONDITIONS APPLY AS USUAL
---
---