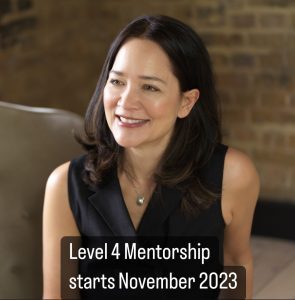 LEVEL 4 –  YOGA MENTORSHIP (50 hour YA Certification)
NOV 18  –  DEC 9, 2024
The Yoga Mentorship program is different to Levels 1 to 3 as it focuses on individual support wherever you are in the cycle of Yoga. Rather than more learning, this course focuses on reinforcing skills and up levelling confidence and presentation skills. We also concentrate on how courses and workshops are built to suit your audience whether online or in person. Many of the technology requirements are well within yoga practitioners capability whether you have technical skills or not, so these are offered in clear simple ways so that you too can present, teach and record online.
Sarah also shares the skills and applications behind the entire Yin Yoga and Mindfulness syllabus through Personal mentoring sessions, live interactive small group sessions and recorded lectures as well as a rich supply of specialist workshops and Yin Yoga Classes that encompass the use of Myofascial Release techniques, Somatics, Meditation and Pranayama. Upon completion of Levels 1-4, you will earn a 220 Hour Completion Certification in Yin Yoga and Mindfulness Meditation Teacher Training or a  50 Hour Certificate in Level 4 Yoga Mentorship.
Read some of the 5 star Reviews:
"The Level 4 course was like clouds parting – I became clearer as to what I could offer as a teacher and the type of teacher I want to be. Building up the 'teaching toolbox' by cementing Levels 1-3 and then introducing new teaching methods, it became a launchpad for creativity. This was an invaluable exercise in having the confidence to innovate and to approach teaching with a broader and more playful attitude. As a vinyasa yoga teacher, preparing a less-structured yin class can feel overwhelming and it's in those moments of uncertainty where Level 4 was inspirational as an aide to fill in the gaps and adding perfume and colour to classes which can too often be generic. 
 The one-on-one class analysis as been invaluable, especially as the the feedback was delivered in a way that resonated with me. The one to one sessions addressing topics and issues specific to me, were what I had craved for as an advancing yoga teacher. Some bubbling complacency was also addressed and negated, so I feel like I'm back on the right path. I felt like my hand has been held while I progress and I feel more confident to take a leap of faith with my classes and even entertain the possibility of retreats(!). This constructive support has been one of the most important ingredients to achieving growth that I have ever had as a yoga teacher. A heartfelt thank you."
MENTORSHIP
Mentorship is designed to enhance and refine your yoga teaching skills and to personally support you developmentally on your journey practising and teaching Yin Yoga & Mindfulness Meditation with more depth, greater clarity and ease wherever you are in your experience of yoga. There are no prerequisites.
CURRICULUM
2 Personal 1:1 Mentoring Sessions with Sarah Lo.
Live Group Sessions – Practice, Lectures and Interactive Sessions over 3 months    including a graduation session.
Level 4 Yin & Yang Yoga Classes through an integrated practice of Somatic movement, Yin Yoga and Myofascial Release.
Free access to recordings of specialised 3 hour workshops in Heart Qi, Liver Qi & Kidney Qi.
'How to' create Creative Class sequencing for all levels of training.
A 230 page Level 4 Resource Manual.
Presentation and teaching skills in-depth – articulation and body language.
Group & Team Management skills whilst conducting your own programs.
Leadership Skills.
Imposter syndrome.
Working with your inner critic.
Setting healthy boundaries with students.
Working with your strengths and weaknesses.
Smart Scheduling.
Zoom and in studio presentation.
Recording & Publishing Videos.
Publishing & Printing Digitally.
Equipment/technology necessary to teach with.
Negotiating your worth.
Creative Writing and Design of Workshops and Courses.
The Mechanics of the full course program.
Ongoing post training developmental support at reduced hourly rates.
CERTIFICATION
Level 4 – Yoga Mentorship (50 hours Yoga Alliance)
or
Certificate of Completion (220 hours Yoga Alliance)
Levels 1-4 – Yin Yoga & Mindfulness Meditation Teacher Training
(Upon completion of all 4 levels of the new teacher training program).
MENTORING
In your personal  mentoring sessions with Sarah Lo, feedback and guidance will be provided on your teaching skills. Peer review will also be offered.
BOOKINGS  HERE

Please note the Level 4 program is open to those who have studied to a minimum of Level 2 on Sarah's Yin Yoga Teacher Trainings.
TIMING
Nov/Dec – Private Mentorship sessions (arranged individually)
Nov 18, 25 & Dec 2 & 9 – Live Group Sessions (recorded)  3pm – 5:30pm GMT
Jan 2024 – Private Mentorship Sessions
Feb 10, 2024 – Graduation Session 3pm – 5:30pm GMT
Scholarship fund for those who have completed Levels 1-3 are available at a reduced rate if suffering from genuine financial hardship.
LEVEL 4 – YOGA MENTORSHIP (50hrs)
NOV 2023 – DEC 2023
Nov 11 & 12, 2023 – Private Mentoring
Nov 18, 25 & Dec 2, 9  2023 – Group Sessions
Jan 2024 – Private Mentoring
Feb 10, 2024 – Graduation Session