This is a 4 day Level 2 Yin Yoga & Mindfulness Meditation Teacher Training (30 hours Yoga Alliance accreditation) that is open to both yin yoga teachers and yoga practitioners who have undertaken an approved foundation yin yoga teacher training and are in the process of advancing their yin skills and wishing to deepen them. This online training has been carefully adapted and thought through to allow for the learning process online. This is different to online trainings where you are simply watching recordings. You will be guided through the process live and in real time with Sarah. There are a limited number of spaces for this training.
This training includes learning to teach yin yoga from a functional approach, learning to map the meridian pathways of the Yin Yang organ pairs, soft tissue anatomy of the hip joint, fascia, mindfulness meditation skills and practices for the body, heart & mind, psychological enquiry through both interpersonal and intrapersonal practices, felt sensing and the subtle body, the importance of the vagus nerve and enteric nervous system and building the body of a teacher through postural cues and presentation skills.
This training is powerful self developmental work and goes deeper into the concepts and practices of Yin Yoga and Mindfulness Meditation. Material from the Level I training is not repeated and new yin postures for the upper and lower body are taught in this course. It is not recommended that you attend this training without a good understanding and and practice of Yin Yoga.
Read some of the wonderful testimonials here from Sarah's recent online course.
Yin Yoga
Functional Teaching for the Yin Yang organ pairs
Deconstruction of Yin Yoga poses
New Yin Practices for the upper + lower body
Mindfulness
Mindfulness Meditation for the Body, Heart and Mind
Psychological Enquiry
Chinese Medicine
Meridian Pathways of the yin yang organ pairs
Mapping the meridians
Anatomy
Soft tissue of the Hip Joint
Fascia
The Vagus Nerve & Polyvagal theory
The Enteric Nervous System
Subtle Body
Felt Sensing
Teaching Skills for Yin
Effective cues
Building the Body of a Teacher
Presentation Skills Online & Live
Assessment Skills
Props – Effective use for different body types
July 3-4 & 17-18, 2021
12:00pm – 5:30pm
12-5pm UK time; -5hours New York; +7hours Hong Kong
LIVE ONLINE – BOOKINGS OPEN HERE

TRAININGS HAVE BEEN MOVED ONLINE TO STAY IN LINE WITH TRAVEL RESTRICTIONS, GOVERNMENT AND EDUCATIONAL GUIDELINES. 
Schedule
The schedule for the 4 day course will be explained on the first day and this will also be in your manuals. The course will include both lectures and an experiential practice of Yin Yoga, Pranayama and Mindfulness Meditation and Interpersonal and self enquiry practices
Shorts
Please have a pair of shorts ready to put on for this training for the meridian mapping session on the afternoon of Day 2. Shorts are optional and so for those who do not wish to wear shorts you will be matched with a partner who has also opted out of this session.
Mentoring or Coaching
Mentoring post Level 2/3 study with Sarah Lo is upon application only. Sessions are conducted via Zoom sessions online. Private consultations with Sarah during the week of the training is not possible.
Certificate
Attendance in the entire program is required in order to receive a Certificate of Attendance from Sarah Lo Yin Yoga Teacher Training for 30 hours provided the non contact reading hours requirement have also been fulfilled. Those who are unable to attend all of the classes will be awarded a Certificate of Attendance based only on the hours attended. Please plan your time accordingly in order to not miss any of the sessions. This certificate will go towards earning your full 100 hour Yin Yoga Teacher Training Certification with Sarah Lo only after completion of all 3 levels of Yin Yoga teacher trainings with Sarah Lo herself. Certificates will be sent digitally by email about 2 weeks after the course.
Study and Reading
Students are required to read  'The Complete Guide to Yin Yoga' – Second Edition by Bernie Clark for this training before they arrive. Reading this book is intended as essential preparation for the practice and lecture sessions and also form part of your non contact hours, so please purchase this upon registration of the course so you have plenty of time to read this before the training begins. Please also refresh your reading of Insight Yoga by Sarah Powers from your Level 1 training. Each book takes an estimated 10 hours to read.
A teacher training manual will be emailed to you prior to the training.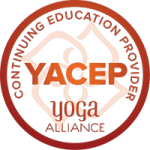 July 3-4 & 17-18, 2021
LIVE ONLINE – BOOK HERE