This Level 2 Yin Yoga & Mindfulness Meditation Teacher Training (a 50-hour Yoga Alliance Registered Training) is a 4 week online training open to both yoga teachers and dedicated yoga practitioners (other professionals) who have undertaken an approved foundation yin yoga teacher training and are in the process of advancing their yin yoga skills and practices and wishing to deepen them.
This live online training includes learning to teach yin yoga from a functional approach, learning to map the meridian pathways of the Yin Yang organ pairs, soft tissue anatomy of the hip joint, fascia anatomy and research, mindfulness meditation skills and practices for the body, heart & mind, powerful pranayama techniques for stimulating qi, psychological inquiry through both interpersonal and intrapersonal practices, felt sensing through the subtle body, the importance of the vagus nerve and enteric nervous system, teaching with postural awareness, improving key listening and observational skills as a teacher.
This training is powerful self-developmental work and goes deeper into the concepts and practices of Yin Yoga and Mindfulness Meditation. Material from the Level I training is not repeated and new yin yoga variations for the upper and lower body are taught in this course. It is not recommended that you attend this training without a good basic understanding and practice of Yin Yoga.
The same course content is delivered online as in past in-person teacher trainings. Having taught this course multiple times online Sarah feels that there are unique advantages to every student being able to observe the demonstrations closely and to hear the lectures clearly. Recordings of the live lecture sessions each week will be made available for 7 days if you miss any of the live sessions. You will also receive additional recordings of lectures and Yin Yoga classes each week which will help enormously to solidify your learning and enable you to practice during the week. The latest state of the art digital interactive 100 page Level 2 Yin Yoga & Mindfulness Meditation Teaching Training Manual has been updated to include cutting edge research on fascia and detailed instructions for the breakdown of postures. Teachers in the past have found the manuals their go-to textbooks for teaching and have been an invaluable resource to their Yin Yoga teaching. From her previous testimonials, Sarah feels that leading this training online has added a new dimension to virtual trainings offering a safe and highly effective way to share her knowledge in a rich and equally powerful way. The course has been carefully thought through and adapted to an online format so that you can acquire a level of skills to enable you to teach and practice Yin Yoga.
100 Page Digital Manual with live links – printable & downloadable
Acupuncture and Sinew Channel Manual of the Meridians
15

  

Preparation Lecture Recordings – 12+ hours
 9 X Yin Yoga Practice Classes = 12+ hours
8 live interactive Zoom Classes with Sarah

 – 16+ hours

4 hours Assignment

 

4 hours Reading/Homework
2 hours Viewing
Read some of the testimonials here from Sarah's recent online Level 2 teacher training.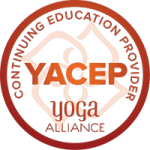 DATES
July 2021 – SOLD OUT – Triyoga Online
Join the waitlist HERE for the next Level 2 Training. 
TRAININGS HAVE BEEN MOVED ONLINE WITH WORLDWIDE TRAVEL RESTRICTIONS, GOVERNMENT AND EDUCATIONAL GUIDELINES.